10 Pinterest Boards To Stir Your Wanderlust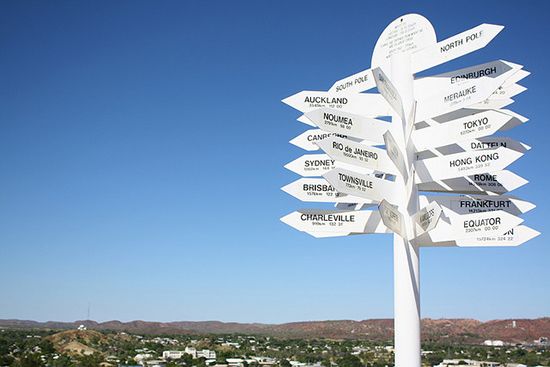 Are you looking to get some fresh ideas for your travels? Maybe you are just someone who loves to fantasize about exotic locations, new horizons, meeting people you never knew existed. You could be craving excitement, romance, adventures in lands unseen. You just crave new experiences all the time, and you are a jet setter at heart.
This, to me, is the very definition of wanderlust. Which is a "condition" I have had since I was a child, dreaming of running off to exciting new lands. Those fantasies haven't abated. If anything, they have grown since I have actually taken off on those travels for real.
Pinterest is a great source of inspiration for me as a traveler, and I am sure others reading this will agree. Of all of the boards I am following, these are the ten I find most able to stir that wanderlust into a frenzy.
1. Travel Channel's Daily Escapes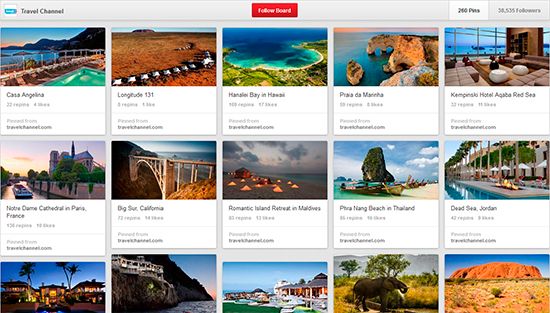 Any list about travel has to have something by the Travel Channel on it. A professional network that I watch way too much of, they have a ton of fantastic boards on their account. But my favorite is their Daily Escapes, which is regularly updated with both well known and unknown places that add to my ever growing list of destinations. Most are simple landscapes, which I have always been fond of.
2. Ivy Newport's Travel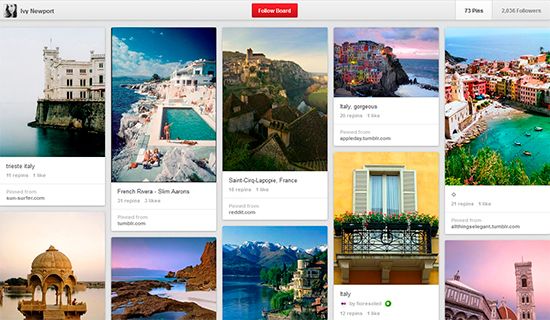 More interested in city photos? This board is full of those, with stunning pictures of places like the Amalfi Coast in Italy, to Rajasthan in India. What I love about this board is the wide selection of places around the world she has selected to fill it with. Many are lesser known places that locals are more likely to speak of than tourists. A couple of the pins are areas I have been myself.
3. Travel Fashion Girl's What Inspires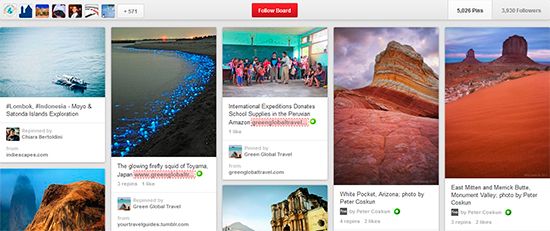 One of the largest boards on this list, this is a communal effort by people all across Pinterest. It has barely under 5,000 pins as of this writing of places that inspire different travelers, with incredible photos from around the web. Switzerland, Bolivia, Cambodia, France, Argentina, the United States, Greece, Japan, Ireland…you will find images from everywhere you could imagine.
4. Jessica Hinrichs Travel Quotes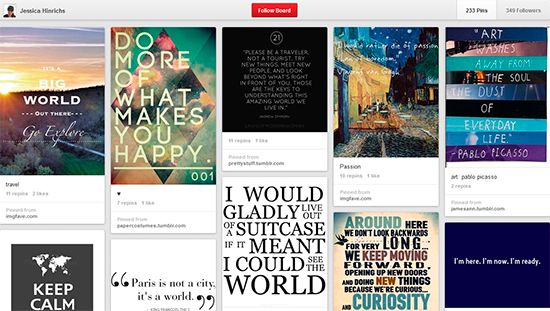 I will admit it: I am a sucker for quotes of all kind. This board is dedicated to travel quotes in particular, and if you thought seeing beautiful places are inspiring, you should try hearing travel lovers speaking about them.
5. Gloria Droghei Road Trips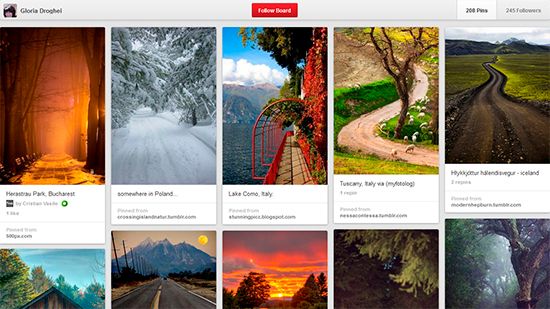 Road trips are a very special kind of traveling. You see so much just going from one place to another, and there is a feeling of freedom you don't feel on a plane. My first trips were on the road, and just thinking about them makes me all nostalgic. So it is no surprise that this road trip related board is one of my favorites on this list. It shows long, winding roads through different landscapes.
6. 100 Places 2 Visit's Before You Die

Even though the account is 100 Places 2 Visit, this board is a communal one with more than 43,000 pins! It would seem everyone has an opinion of places every person should see before they take their last breath. If you want a board you will never stop being able to look through, definitely follow this one.
7. Solo Travel Club's Travel Blogs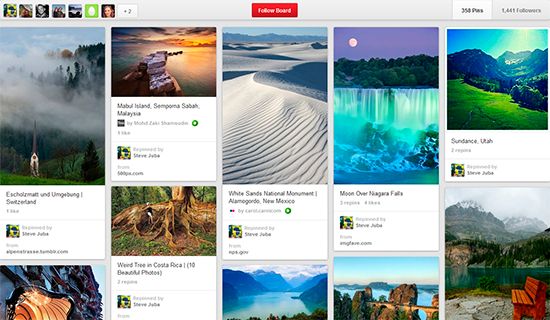 There are a lot of great travel blogs out there, and that is where some of the best pictures from around the globe come from. This board is a smaller communal one with 350+ pins from blogs across the web. I would say these are some of the most beautiful landscape and city photos on Pinterest.
8. Maia McDonald's Escapes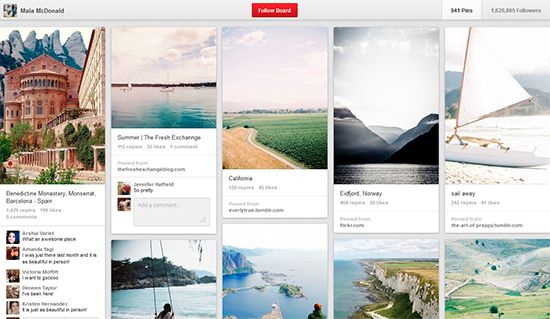 The creator of this board seems to have a particular love of beaches and the ocean, but that isn't exclusive. Every time I look at this board I think of laying out by the water, or overlooking sailboats from a balcony in some European city. An experience I have had first hand and will always cherish.
9. Julia Mitta's Places To Go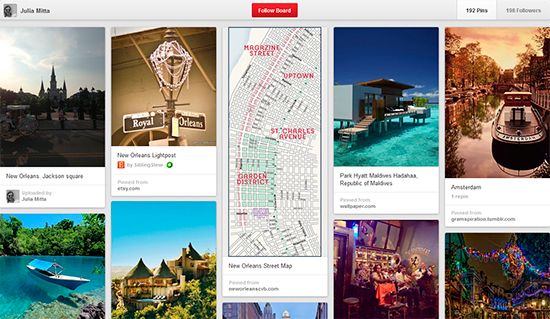 I love boards that really stretch the locations that they select. This is one of the few I have seen that has everything from Alabama to the Philippines, so it is better than most in that regard. It even has a cool satellite view of Central Park in New York City.
10. Dewayne Preece's Travel
Another one of my favorites, this is a great board that has some photos I haven't seen anywhere else. I have put at least five new places on my bucket list thanks to Dewayne.
Have a travel board that inspires you? Let us know in the comments.
Featured images:
License: Creative Commons

image source

License: Image author owned

License: Image author owned

License: Image author owned

License: Image author owned

License: Image author owned

License: Image author owned

License: Image author owned

License: Image author owned

License: Image author owned

License: Image author owned
By Annie Wallace
Annie is the travel blogger that loves less popular and visited destinations like Lviv, Warshawa, Ethiopia and others.